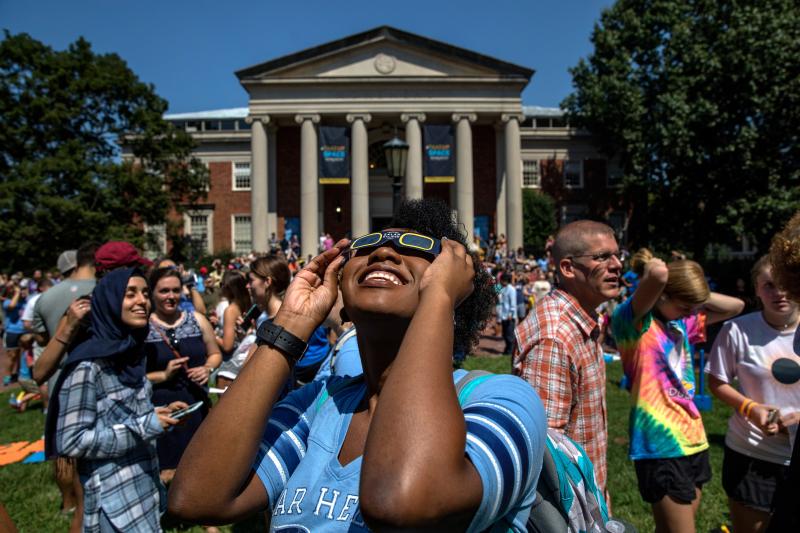 The North Carolina Science Festival invites you to become part of the fun! We seek proposals from organizations interested in hosting events. These events can come in an array of formats. Well-known speakers attract thousands. Small, intimate events such as nature walks may attract a half-dozen people. The Festival seeks events at both ends of that spectrum and everywhere in between.
Ultimately, North Carolina Science Festival events share several common bonds. Festival events celebrate science, technology, engineering and mathematics and their impacts on our state. Festival events are fun, engaging, and demonstrate that everyone can "do science" — and enjoy it!
NCSciFest staff review all proposals as soon as possible. Events that meet the selection criteria are named "Official Events." If a proposed event does not meet the selection criteria, Festival staff will contact the event organizer to suggest modifications.
Events submitted by 1/14/2024 will receive a free Festival event host kit prior to the Festival. Read our step-by-step guide for more details on the timeline for submitting your events.
Selection Criteria
Event should be located in North Carolina. Online events designed for a North Carolina audience may also qualify.
Event should occur during the Festival. Events that begin prior to the Festival but culminate during the Festival may be acceptable.
Science, technology, engineering and/or mathematics should be a significant component of the event.
Host accepts all responsibility for the event, including organization, content, staffing, etc.
Event should be accessible to the general public. Free events are encouraged.
Host agrees to promote the event as a NCSciFest event.
Festival organizers may reject events that are determined to be excessively commercial. Festival organizers reserve the right to reject any event for any reason.
Festival Support
NCSciFest organizers work with hosts to maximize attendance and to ensure that every event meets Festival standards. To assist hosts, the Festival:
Promotes events on the Festival website as part of the Festival's online calendar.
Promotes events via the Festival's social media feeds and through a statewide marketing campaign.
Provides hosts with NCSciFest branding tools, such as event signage, advertising templates and the NCSciFest logo for use with print and electronic marketing efforts.
Creates a unique URL for hosts to use to promote events within their communities.
Sample Events
Possible events include lectures, expos, science cafes, family science events, exhibitions and performances.
Check out some of our previous events to get inspired with possibilities:
Festival Theme
Each year, Festival organizers choose a broad theme that partners can engage with in a variety of ways (or not at all - it isn't mandatory). The 2024 NCSciFest theme is "State of Innovation" - we're excited to celebrate how North Carolina is leading the way in technology and innovation! If you're looking for some inspiration when planning your event, consider how your field may be changing over the coming years.
Need Help with an Idea?
If you'd like to host an event but need an idea, we can help. The Festival team is happy to consult with members of your organization to discuss event possibilities and to connect you with like-minded STEM professionals in your region. For more information, please contact ncscifest@unc.edu.