Call for Event Hosts for the 2024 Statewide Star Party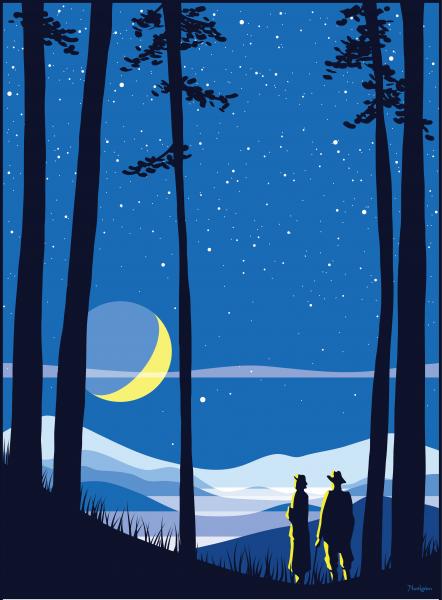 We are seeking event hosts for the 12th annual North Carolina Statewide Star Party, a signature event of the 2024 North Carolina Science Festival. The Statewide Star Party will be held April 5-8, 2024. This year's theme is "Sun & Moon" in honor of the solar eclipse on Monday, April 8, 2024.
For North Carolina, this will be a partial solar eclipse lasting about 2½ hours, from roughly 2 to 4:30 p.m. At maximum eclipse in NC, about 70-85% of the Sun will be covered by the Moon, at roughly 3:15 p.m. Eastern Time. To find exact times and % maximum eclipse for YOUR location, check this map (Important: you must subtract 4 hours to convert UT to Eastern Daylight Time).
We anticipate that 35 hosts (including state and local parks, planetariums, nature centers, libraries, and others) will participate by hosting skywatching events for the public at sites across North Carolina on the Star Party dates. Hosts will be provided with a free Star Party kit so they can lead hands-on astronomy activities about the Sun, Moon, and eclipses with their visitors. A limited number of eclipse glasses will be included in the kit.
Because of the popularity of the Statewide Star Party program, we anticipate receiving more applications than spots available. We will select hosts who are committed to putting on a successful skywatching event for the public, and who, collectively, can engage a geographically diverse set of visitors across North Carolina. We strongly encourage all hosts to engage other community partners in putting on a successful event.  
Prospective event hosts are welcome to join an (optional) NCSciFest partner meeting on Wednesday, October 4, 2023, at 12 p.m. Eastern Time, to get updates about the 2024 Festival, learn about hosting Star Party and other NCSciFest events, and to get your questions answered. Register here. 
The deadline to apply to be a Star Party host site is Thursday, November 30, 2023 (11:59 p.m. Eastern). 
Important: This is earlier than the deadline to apply to host other (non-Star-Party) events as part of the NC Science Festival. If not accepted as a Statewide Star Party host, applicants are still able to host an event for the NC Science Festival! Learn more about hosting an NCSciFest event here.
Requirements to be a Star Party host: 
Your event must have the support of your organization's administration.
Your event must be scheduled for one of the official 2024 Star Party dates: Friday, April 5 through Monday, April 8, 2024. A rain date or an indoor rain plan is strongly encouraged but not mandatory. 
Your event must be free and open to the public. (Events that require a fee or have a restricted audience can still be part of the NC Science Festival, but will not be eligible to receive one of the limited number of free Statewide Star Party kits.)
Your event includes a significant skywatching component involving the real sky. No planetarium-only events, except in case of rain.  
Your organization supplies the venue and staffing.  
You commit to trying out in advance the educational activities in the Star Party kit, which will be supplied by the Star Party Coordinators, and to using 3 or more activities at your event. 
You commit to recruiting and training staff and volunteers to work at your event, including how to lead kit activities. Do not attempt to host an event solo! 
You agree to read communications from the Star Party Coordinators, respond to questions, and pass along communications to everyone working the event.  
The North Carolina Science Festival and Statewide Star Party will: 
Provide hosts with a free Star Party kit with educational activities to engage visitors with astronomy activities.
Provide training on kit activities via a webinar.
Offer optional in-person training on kit activities.
Promote events on the Festival website as part of the Festival's online calendar 
Provide hosts with North Carolina Science Festival branding tools, such as event signage, advertising templates and the North Carolina Science Festival logo for use with print and electronic marketing efforts. 
Create a unique URL for hosts to use to promote the event within their community. 
Applications for the 2024 Statewide Star Party will be accepted through Thursday, November 30, 2023. We will be in touch with all applicants by December 14, 2023.
Application Questions:
Event Plans: Describe your plans for organizing your Star Party event. Please include the location, intended audience, collaborators and partners, how your participants will observe the sky, other activities participants will do at your event, your rain/cloud plan, your staffing plan, your plan for promoting your event, and any other details you feel are important.
Telescopes:  Important: We expect many astronomers will want to travel to the path of totality for the April 8th eclipse, making them unavailable for supporting this year's Star Party events in North Carolina. Kits will include eclipse glasses as an alternative method of solar and eclipse viewing. If you do plan on having telescope viewing (solar scopes or regular scopes for night viewing), where will your telescopes—and the people to operate them—come from? If you plan to partner with amateur astronomers or an astronomy club, please tell us which astronomers/club, whether you already have a relationship with them, and whether any astronomers have committed to helping with your April event.
Science for All: The North Carolina Science Festival is committed to the mission of "Science for All." Please describe how your institution and your participation in the Statewide Star Party helps to achieve that mission and improve access to STEM opportunities for North Carolinians, particularly underserved and underrepresented populations.
For more information, please contact:
Amy Sayle
Coordinator, NC Statewide Star Party
Email: starparty@unc.edu 
The Statewide Star Party is made possible with the support of NC Space Grant and the NC Science Festival.
Click here for Star Party kit materials (including previous years)
Illustration Credit: Tyler Nordgren