Option to purchase kits
Demand for the Duke Energy Science Night program has skyrocketed to the point where we are only able to award sponsored kits to about a third of the schools that apply for them.
We therefore create a limited number of spots in our kit program for purchase. The preorder and prepayment process opens in early August of each school year. We require payment in advance so that we can procure the kit materials, The kits ship in early February. Schools hold their science event during April as part of the NCSciFest. A more detailed timeline can be found below.
The kit program price for 2022-2023 was $594*, with a discounted price of $544* for each additional kit purchased by the same school.
*Note that sales tax is also charged.
This wildly popular NCSciFest  program is now in its 12th year!
Funding from the Duke Energy Foundation allows NC Science Festival staff to produce this program for elementary schools across the state. The Duke Energy Science Night program is designed to help schools host a fun science event for their students and families with the use of a resource kit that includes hands-on activities, a planning guide, activity instructions (in English and Spanish), materials for up to 200 participants, and the support of NCSciFest staff.
The 2022-2023 Duke Energy Foundation funding sponsored 150 kits to award at no charge. These were awarded using an application process and review of the school's statement, need, demographics, geography, and past participation. The sponsorship application opens in early August and closes in September of each school year. The kits ship in early February. Schools hold their science event during April, bringing families together as a community to explore the amazing world of science as part of the North Carolina Science Festival. A more detailed timeline can be found below.
What's included in the Duke Energy Science Night Activity Kit program?
Ten hands-on activities aligned with K-5 Science Standards 
Activity guides (detailed instructions, explanations of the science, and North Carolina connections)
Activity supplies (materials for 200 students to perform each of the activities)
Planning guide (helpful instructions on how to organize a science event)
Unlimited access to downloadable digital resources (including Spanish versions of documents)
Promotional materials (including a banner, flyer templates, and give-aways to build excitement)
Instructional webinars to support your preparation throughout the school year
Email and phone support throughout the school year
Cost of materials procurement, packing and shipping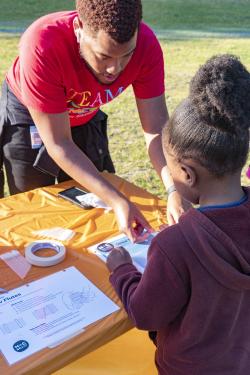 How do I apply for a sponsored Duke Energy Science Night Activity Kit?
The application period for 2022-2023 is closed.
How do I purchase a Duke Energy Science Night Activity Kit?
The purchasing period for 2022-2023 is closed.
can i still access the Duke Energy Science Night resources?
Yes! Since there are fewer physical science night kits than schools interested in the program, we are now providing access to our online resources, including a shopping list of the materials you will need to perform the activities. If you plan to hold an event in April 2023, we will also add you to our list of participating schools. We do not charge for this option, but you will need to purchase or gather the activity materials. 
What is the 2022-2023 Duke Energy Science Night Timeline?
Aug 8 - Sep 23: Application period for sponsored kits
Aug 8: Preorder period begins. Note the preorder process will close once the kit limit is reached.
Sep 30: Schools who applied for sponsored kits notified of status
Oct 7: Selected schools provide their acceptance of a sponsored kit and their primary contact's information
Nov 2022: Program Welcome and Overview webinar
Dec 2022: Instructional webinar
January 2023: Instructional webinar
February 2023: Activity Kits ship/ Instructional webinar and videos
April 2023: Schools use their Activity Kits as part of the NCSciFest
May 2023: Submit evaluation and feedback
What can I do if I have questions?
Please contact the NCSciFest team by email* (ncscifestschools@unc.edu) or by telephone (919-962-3274).
*Please add this addresses to your contacts to be sure our correspondences do not get caught in your spam filter.