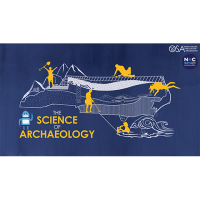 The Science of Archaeology
AGE GROUPS:
Adults,
Elementary School,
Families,
High school & Teens,
Middle School
Did you know archaeology is considered a science? From the mountains to the coast, archaeologists in North Carolina rely on a variety of scientific approaches and technological advances to examine our state's rich history and preserve it for future generations.
Join the North Carolina Office of State Archaeology us for a virtual exploration of terrestrial and underwater archaeology throughout North Carolina's unique landscapes! Learn about the tools we use to investigate and document the lives of people whose voices can no longer be heard and how we protect our state's vibrant and diverse past.
Explore activities you can do at home, dive into the topic of underwater archaeology, or have fun with an Archaeology coloring book!
This week-long virtual event will take place on our Facebook page and website, April 12-16. Then join us on Zoom on Saturday, April 17 at 1:00pm for an interactive conversation with OSA archaeologists as they compare the scientific approaches in land and underwater archaeology!